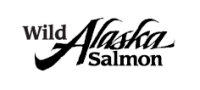 Wild Alaska King Salmon can now be purchased online and shipped directly to your home. The finest Wild King Salmon, fresh caught in Alaskan waters is the highest quality and best tasting wild caught King Salmon around. The rarest, best tasting, wild caught King Salmon around, the King Salmon, also known as the Chinook Salmon, is also the highest in essential fatty acids Omega-3s. Wild King Salmon fishing is closely regulated and responsibly harvested under strict supervision to preserve the environment.
Sale Price: $174.95

Features
5LB WILD KING SALMON PORTIONS
Description
Packaging: Our orders are carefully packed using dry ice inside insulated inserts in a corrugated shipping box. Your fish will remain frozen for you to put right in the freezer until you're ready to eat! Thawing: It's best to thaw seafood overnight in the refrigerator. Place the package on a plate or shallow pan to catch any liquid and allow 8-10 hours (for full fillets). Never allow seafood to thaw at room temperature or place in water to thaw. Flavor and texture are both lost this way. About Our Product: Our King Salmon is wild caught and has a flavor that is unrivaled because our process is simple. We catch and process only our fish. All of our fish is processed and flash frozen within hours of harvest. This keeps the fish fresh and helps maintain the nutrients and flavor that so many of our customers are searching for. Each fillet weighs between 8oz and 12oz depending on the cut and size of fish and can contain between 1,500-2,000mg of Omega-3's and close to 1,110 IU of Vitamin D3. 5 lbs. of King can vary form 6 to 10 individual steak packets. Wild Alaskan King Salmon (some times called Chinook Salmon) are a sustainably managed species by the state of Alaska, and many health organizations, included but not limited to, the EPA and FDA, view King Salmon as one of the cleanest of all ocean fish. As a small family fisherman owned operation we believe in one thing: providing you with a product that we are equally as excited to eat. The quality and taste are unsurpassed and the level of freshness can only get better if you join us on the boat! Portion fillets range in size from 8-12 oz. each depending on the size of the fish they are hand cut from. Each piece serves 1-2 people. The 5 lb. box contains 6 to 10 pieces. Our portioned fillets make for an easy dinner option any day of the week.
Sale Price: $70.00

Features
FEDEX OVERNIGHT
NEVER FROZEN
Vacuum Sealed for Freshness
1 POUND PORTIONS
Description
100% Natural King Salmon, No Colors, NO Hormones, NO Antibiotics, Raised in the fresh Clean Waters of British Columbia.
Sale Price: $105.00

Features
Line caught
Wild Alaskan King Salmon
Ships Frozen (may thaw in transit)
Description
Porter &York's 2.5+ lb King Salmon is caught wild in the waters of southeast Alaska using a line and hook method. After being caught, the fish is cleaned and frozen on board to hold in that fresh salmon flavor.
Sale Price: $24.95

Features
QUALITY SMOKED SALMON - Fresh Pacific Salmon caught off the coast of Canada mildly cured and smoked to perfection.Made from Wild Caught Canadian King Salmon
MAPLE CURED - These King Salmon Nuggets are Smoked and Cured with Natural Wood Smoke and Cured with Grade A Quebec Maple Syrup
FISH FOR ANY OCCASION - Salmon Nuggets are the perfect compliment to any meal. Pair these with an arugula salad or lay it on a platter as an appetizer
UNIQUE SEAFOOD BITES - This is a best selling unique product packed in gold foil retort pouch. The sweet maple taste is a perfect pairing with the smokey fresh fish.
JET SET SAM PRODUCT GUARANTEE - We aim to provide the absolute best experienece to our customers and strive to continue providing the highest quality salmon fish and seafood product. We are also committed to 100% customer satisfaction and will go the extra mile to ensure you are satisfied with your purchase
Description
Wild Caught Canadian Maple Smoked Wild King Salmon Nuggets Made From Wild Salmon Caught Off the Coast of British Columbia Canada! You have to try this! Are you looking for an amazing sweet and tasty salmon treat? This is one of those unique smoked salmon products I bet you haven't tried before. Smoked Salmon nuggets are created from the highest quality King salmon and then cut into bite sized pieces before being cured in maple syrup and then cold smoked to lock in that flavor and freshness! Finally a Sweet and Healthy Treat Packed and Ready To Eat Maple Smoked Salmon Nuggets are probably our most versatile seafood product. If you have some fish lovers are your place we guarantee these are going to be a big hit. They are cut to just the perfect size that you can serve these salmon nuggets as an appetizer, skewer up and throw on the grill or simply top off a salad to heighten the flavor. Our salmon nuggets are packed in gold foil for maximum freshness and ready to eat upon arrival. It's made in British Columbia Canada with the finest ingredients and completely preservative free. Still Thinking About Whether to Buy Our Maple Smoked Salmon Nuggets? • Premium quality Wild Pacific King Salmon fished off the coast of British Columbia • Cured in the Finest Grade A Quebec Maple Syrup • Cold Smoked to ensure maximum flavor and freshness while giving it a hint of smokiness • Makes the perfect Corporate or Christmas gift • A healthy snack which is an amazing source of protein and Omega 3  • Proudly Made in Vancouver British Columbia Canada  What are you waiting for? Get your Salmon Nuggets today and one more as a gift to a dear friend! Scroll Up & Click Add To Cart Now While Supplies Last!
Nutritional Values for Alaskan King Salmon
Fresh / Frozen King Salmon
Serving size - 3 oz. (85 g) cooked, edible portion
| | | | | | | |
| --- | --- | --- | --- | --- | --- | --- |
| | Calories | Protein (g) | Fat (g) | Saturated Fat (g) | Sodium (mg) | Cholesterol (mg)* |
| KING (Chinook) | 196-200 | 21-22 | 11-11.5 | 3 | 50-55 | 70-75 |
*The National Cholesterol Education Program of the National Heart, Lung, and Blood Institute (NHLBI) recommends a diet that includes no more than 300 mg of cholesterol per day.
Data courtesy of the Alaska Seafood Marketing Institute