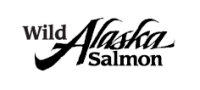 Wild Alaska King Salmon can now be purchased online and shipped directly to your home. The finest Wild King Salmon, fresh caught in Alaskan waters is the highest quality and best tasting wild caught King Salmon around. The rarest, best tasting, wild caught King Salmon around, the King Salmon, also known as the Chinook Salmon, is also the highest in essential fatty acids Omega-3s. Wild King Salmon fishing is closely regulated and responsibly harvested under strict supervision to preserve the environment.
Sale Price: $9.99

Features
REAL SALMON JERKY: Wild West Jerky brings you the real deal in Salmon jerky. Made from Wild Caught King Salmon from Alaska, Wild West Jerky's smoked salmon is the best Squaw Candy for sale on the market. Try the tastiest jerky from real premium salmon. You will not buy another jerky ever again.
SUPERIOR MANUFACTURING PROCESS: We aim to bring you the most quality product on your plate by carefully tested processing techniques.
GREAT FLAVOR VARIETY: Choose from the great variety of delicious jerkies that Wild West Jerky offers. Try Beef, Buffalo, Elk, Venison, Pork and Salmon.
HICKORY SMOKED: Our meats are all wood smoked with 100% hickory wood which brings out their natural sweetness as needed. A step away from the traditional salmon jerky seasoning it will leave your mouth watering for more! Ingredients: Fresh Wild King Salmon, Sea Salt, Garlic.
ALL NATURAL UTAH USA MADE JERKY: Our all natural jerky will satisfy your snack craving immediately. We have a wide variety of jerky flavors for all tastes, beef, buffalo, elk, venison, pork, turkey and salmon. Let Wild West Jerky show you a new side to jerky. Perfect snack for activities like Football, Soccer, Baseball, Tennis, Basketball, Golf, Runners, Walking, Hiking, Cycling, Traveling etc.
Description
Premium Fresh Caught King Salmon Jerky By Wild West JerkyFind your favorite jerky flavor in the great variety of Wild West Jerky. Real salmon meat, expertly handled, stripped and smoked for your enjoyment.Our salmon jerky comes in a size packages of  2 ounces.Delicious Flavors to Choose FromWild West Jerky offers you jerky in different flavors.With these choices, you will never get bored of your favorite jerky.Quality Meat and ManufactureIf you are tired of bland market products that all taste the same, you must try what the Wild West Jerky offers. Our jerky comes from real salmon, and we dedicate in delivering a product of exceptional quality. Taste the salmon jerky of Wild West Jerky and you won't buy another brand ever again.Squaw CandyWild West Jerky's smoked salmon is the best Squaw Candy for sale on the market. Smoked with 100% Hickory, Wild West Jerky takes pride in our smoked salmon and offering a Squaw Candy that is truly savory and full of deliciousness.What is Squaw Candy?Squaw Candy is sometimes referred to as Indian Smoked Salmon Candy. It is a Native American tradition of smoking salmon.About Wild West JerkyThank you for choosing Wild West Jerky, the original Utah based jerky provider. We are proud to be USA produced and we pledge to bring you source-verified and locally-raised meats. • Our jerky is made from real salmon, not chopped and formed• We offer jerky that is smoked to perfectionPerfect snack for activities like Football, Soccer, Baseball, Tennis, Basketball, Golf, Runners, Walking, Hiking, Cycling, Traveling etc.Taste Our Delicious Salmon Jerky, Click Add To Cart Now!
Sale Price: $59.95

Features
FEDEX OVERNIGHT
NEVER FROZEN
100% WILD FROM CALIFORNIA
Vacuum Sealed for Freshness
1 POUND PORTIONS
Description
There's a reason it's called "King" Salmon. Simply put King Salmon is the Finest Salmon in the world. Don't be fooled into buying "Chum" or "Silver" Salmon, although Silvers are pretty and bright red in appearance, they often lack the oil content and Omega 3's that give King Salmon the rich taste that sets it apart from the rest. King Salmon can range in color from bright Orange to slightly pale, but rest assured, if it's "King" it's King! Don't be lured into supermarket Farmed Atlantic Salmon either, although it's cheap, remember "You Get What You Pay For!!" **Find SEAFOOD RECIPES at Giovannis Fish Market** Product of British Columbia
Sale Price: $105.00

Features
Line caught
Shipped fresh in season
Wild Alaskan King Salmon
Description
Porter & York's 2.5+ lb King Salmon is salmon that was wild caught in the waters of southeast Alaska using a line and hook method. After being caught the fish is cleaned and frozen on board to hold in that fresh salmon flavor.
Sale Price: $39.95

Features
QUALITY SMOKED SALMON - Fresh Pacific Salmon caught off the coast of Canada mildly cured and smoked to perfection.Made from Wild Caught Canadian King Salmon
MAPLE CURED - These King Salmon Nuggets are Smoked and Cured with Natural Wood Smoke and Cured with Grade A Quebec Maple Syrup
FISH FOR ANY OCCASION - Salmon Nuggets are the perfect compliment to any meal. Pair these with an arugula salad or lay it on a platter as an appetizer
UNIQUE SEAFOOD BITES - This is a best selling unique product packed in gold foil retort pouch. The sweet maple taste is a perfect pairing with the smokey fresh fish.
JET SET SAM PRODUCT GUARANTEE - We aim to provide the absolute best experienece to our customers and strive to continue providing the highest quality salmon fish and seafood product. We are also committed to 100% customer satisfaction and will go the extra mile to ensure you are satisfied with your purchase
Description
Wild Caught Canadian Salmon Maple Smoked Wild King Salmon Nuggets Made From Wild Salmon Caught Off the Coast of British Columbia Canada! You have to try this! Are you looking for an amazing sweet and tasty salmon treat? This is one of those unique smoked salmon products I bet you haven't tried before. Smoked Salmon nuggets are created from the highest quality King salmon and then cut into bite sized pieces before being cured in maple syrup and then cold smoked to lock in that flavor and freshness! Finally a Sweet and Healthy Treat Packed and Ready To Eat Maple Smoked Salmon Nuggets are probably our most versatile seafood product. If you have some fish lovers are your place we guarantee these are going to be a big hit. They are cut to just the perfect size that you can serve these salmon nuggets as an appetizer, skewer up and throw on the grill or simply top off a salad to heighten the flavor. Our salmon nuggets are packed in gold foil for maximum freshness and ready to eat upon arrival. It's made in British Columbia Canada with the finest ingredients and completely preservative free. Still Thinking About Whether to Buy Our Maple Smoked Salmon Nuggets? • Premium quality wild Pacific King Salmon fished off the coast of British Columbia • Cured in the Finest Grade A Quebec Maple Syrup • Hot Smoked to ensure maximum flavor and freshness while giving it a hint of smokiness • Makes the perfect Corporate or Christmas gift • A healthy snack which is an amazing source of protein and Omega 3  • Proudly Made in Vancouver British Columbia Canada  What are you waiting for? Get your Salmon Nuggets today and one more as a gift to a dear friend! Scroll Up & Click Add To Cart Now While Supplies Last!
Nutritional Values for Alaskan King Salmon
Fresh / Frozen King Salmon
Serving size - 3 oz. (85 g) cooked, edible portion
| | | | | | | |
| --- | --- | --- | --- | --- | --- | --- |
| | Calories | Protein (g) | Fat (g) | Saturated Fat (g) | Sodium (mg) | Cholesterol (mg)* |
| KING (Chinook) | 196-200 | 21-22 | 11-11.5 | 3 | 50-55 | 70-75 |
*The National Cholesterol Education Program of the National Heart, Lung, and Blood Institute (NHLBI) recommends a diet that includes no more than 300 mg of cholesterol per day.
Data courtesy of the Alaska Seafood Marketing Institute