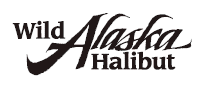 Alaskan Halibut has a firm, flaky meat with a delicate flavor and is prized as one of the best tasting whitefish available. Alaska Halibut, also known as the Pacific Halibut, is a popular fish that has great cooking versatility. Now you can buy fresh Alaska Halibut and enjoy the fine taste of Pacific Halibut.
Sale Price: $140.00

Features
The largest flatfish in the sea, halibut are individually caught by hook and line along the continental shelf of the Pacific Northwest at icy cold depths of 900' or more.
The result is a lean, light whitefish with sweet, delicate flavor, perfectly firm texture and pure snow-white flesh. halibut will hold its shape and texture whether baked, broiled, grilled, poached or steamed, and its flavor works equally well with bold sauces or simple spritz of lemon.
Ships On Ice - refrigerate or freeze upon arrival. Shipped via 2 Day Air Express in a reusable cooler.
Shipments on ice are sent Monday, Tuesday, and Wednesday only unless upgraded.
Please note: due to the perishable nature of this product, we cannot ship to Cannot ship to PO Boxes APO address. Please provide a physical address when ordering this product.
Description
Fillets will keep in the freezer for approximately 3-4 months; once thawed they should be cooked and used within 1-2 days.
Sale Price: $219.00

Features
Flash Frozen
Halibut Fillets - Alaskan Wild Caught: Today Gourmet Foods of NC
Individually Vacuum Sealed
Because we are shipping perishable items, there are certain shipping guidelines we must follow to ensure your products arrive frozen. We only ship orders on Monday, Tuesday & Wednesday via FEDEX with a 2 day maximum. Orders placed by 4pm ET will ship out the next shipping day. Orders placed between Wednesday and Sunday 2pm ET will ship the following Monday.
Description
Hand cut naturally lean Halibut Fillets. These fillets come from the deep cold Northern Pacific waters. Famous for its firm, flaky texture, and wonderful in almost any way you choose to cook - on the grill, baked or broiled. Low in fat, and a good
Sale Price: $44.95

Features
Caught Fresh in Alaska
100% Wild and Natural
Sustainably Harvested
Healthy and Delicious
Description
Our gourmet smoked silver salmon jars set an unsurpassed level of excellence. The long lasting storage and ability to be used in an endless list of recipes makes our smoked salmon jars the best choice for anyone who requires superiority.